Whenever I talk to my Mother on the phone, we talk food. Surprise, surprise. In one of our recent conversations Mother mentioned that she had been on a stock and soup making kick. Then she said the magic words I couldn't get out of my head~Creamy Broccoli Soup. The next day I was at the market buying the ingredients.
This recipe is so easy but the results taste like a gourmet bistro dish.
1. Broccoli crowns, I used five good sized ones, roughly chopped
2. Homemade chicken stock, one quart
3. One medium onion, chopped
4. Two fat garlic cloves, crushed
5. One block of Neufchatel cream cheese
6. A couple of tablespoons of butter or olive oil
Toss your broccoli into a big stock pot, fill with a few inches of clean water, bring to a boil, lower the heat to simmer and cook, covered, until the broccoli is very tender.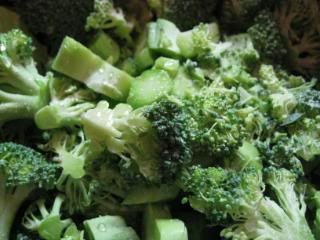 Meanwhile, saute the onion in the butter or oil. I use Kerrygold grass fed butter. Cook the onion until very tender and translucent, add the garlic and cook gently until fragrant. Don't brown the onions or let the garlic burn.
Add the onion and garlic to the broccoli in the stock pot, then add the chicken stock and block of cream cheese. Stir over low heat until the cheese is all melted into the soup. Season with salt and white pepper to taste.
If you have an immersion blender, break that baby out and process until smooth and creamy. If not, do like I did and process in batches in the blender. Return the soup to the pot and test for seasoning. If you are serving right away, return the pot to the heat get it nice and steaming hot.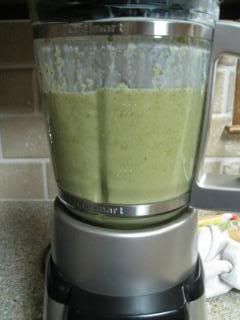 This soup is a revelation, my Mother's trick with the cream cheese made for a really wonderfully flavorful and super creamy soup. Thanks Ma!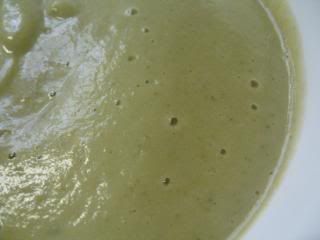 I served my soup with a grilled cheese sandwich, Cabot hot habanero cheese on sesame Ezekiel bread, the first night. Today for lunch, I stirred in some grated Romano cheese and drizzled on a bit of truffle oil. That was so good, I will likely have it for my lunch again tomorrow. I never knew broccoli could be so delectable! I bet cauliflower would work great in place of broccoli and all sorts of winter squash, too.
Here's some bonus food porn, my supper tonight. Rob is away so I wanted something pretty easy but delicious and satisfying. I give you mango lime terriyaki sockeye salmon over a spinach and ruby red grapefruit salad drizzled with balsamic vinegar.