Two months into spring and we've still not been able to put the outdoor room together for the season. The nice days have been few and far between, I was still running the heat this time last week and there has been rain. Lots of rain. So with the bag of lemons I got on sale at the market I made my own sunshine.
Sunshine on a Cloudy Day Lemon Cake
This makes a fairly large cake. You could use a bundt pan or two loaf pans. I used my USA bakeware Pullman loaf pan because it cooks so evenly and releases better than any other pan I own.
Preheat oven to 325 Fahrenheit.
Grease pan with butter.
Ingredients for the cake~
2 sticks of softened butter
2 1/2 cups of sugar
6 eggs
8 ounces of full fat Greek yogurt
1 tablespoon vanilla extract
2 tablespoons lemon zest
4 tablespoon freshly squeezed lemon juice
3 cups all purpose flour
1/4 teaspoon baking soda
Sift flour and soda into a bowl and set aside.
Cream together softened butter and sugar until pale, light and fluffy. Add the eggs, one at a time, beating well after each addition. Add the yogurt and beat well. Add the vanilla, lemon juice and zest and beat well. The mixture will look a little curdled but that's fine. Add the dry ingredients and beat for about 30 seconds, scrape down the sides and beat for 30 seconds more. The goal is a super tender cake, so it's important not to over mix the flour.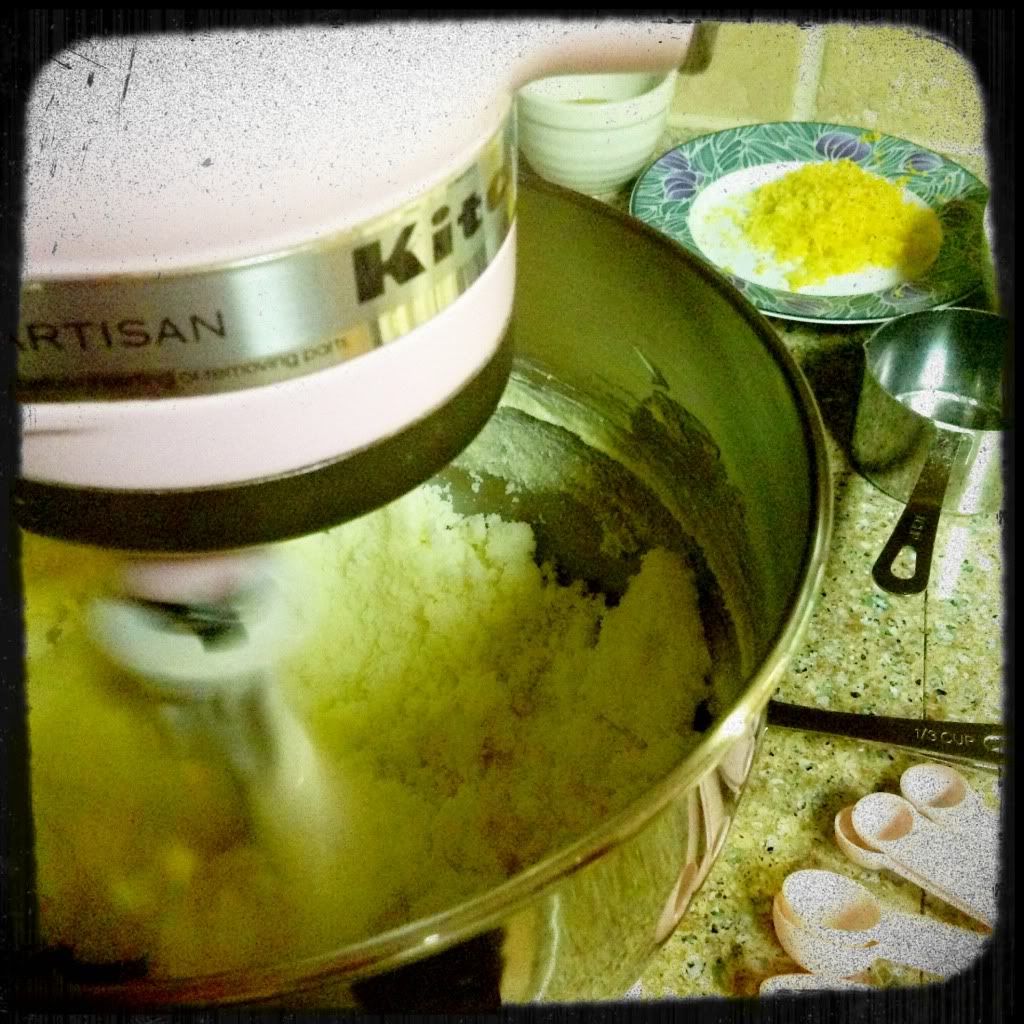 Transfer batter to prepared pan and bake for 1 hour and fifteen minutes, rotating the pan half way through the cooking time. Cool cake in the pan on cooling rack for 30 minutes then remove from pan to cool completely. Glaze. Devour!
For the glaze, I had some leftover lemon zest and juice, about 1/3 of a cup total. I whisked confectioner's sugar a few heaping tablespoons at a time into the lemon juice and zest until I had a nice thick but pourable glaze.
This cake is perhaps the best thing I ever baked. Super moist and dense yet light and fluffy at the same time. Nice lemon flavor and not too sweet. The crust had a wonderful caramelized flavor. Just perfect with a cup of tea on a rainy day!